Investment Process
How we work with you to help achieve your aspirations
Our Investment Process
Deciding how best to invest your money can be daunting. With so many options available and so many uncertainties, how do you choose what is right for you?
Our role is to eliminate as much of that uncertainly as possible and to work with you to identify the most appropriate way for you to achieve your financial goals.
Our Investment Process is designed with that in mind.  It creates a framework for us to discuss your needs and expectations, to assess and agree your attitude to risk and then to build and manage your investments with you to match.
By working through a series of logical steps, you will gain a better understanding of the reasoning behind our recommendations and confidence in the resulting choice of investments.
This flowchart outlines the Investment Process and explains how we manage each stage of it with you.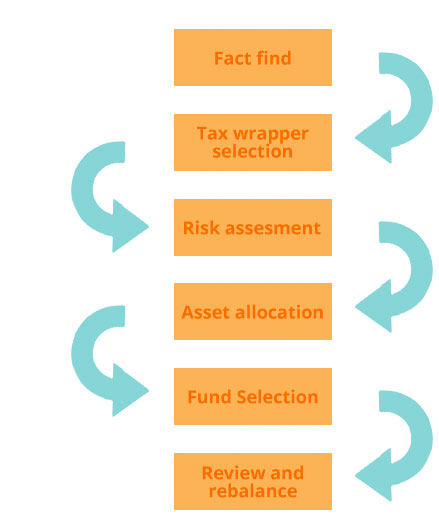 Getting to know you
Our fact find will be wide-ranging and thorough to ensure of subsequent advice is soundly based.  In addition to taking into account your personal and financial circumstances, it will also cover your broader attitudes and values so we can establish your 'attitude to risk' (ATR).  Once we have assessed your ATR score, we will look at your tax position.
Ways to hold your investments
Once we have established your financial goals, we will then determine the appropriateness of tax wrapper(s) to meet your needs.  One of our main deliverables is to help all of our clients invest tax efficiently and provide accurate and sound advice in tax advantageous products.  In addition to pensions, ISA's and bonds, we may look at alternative investments.  Either way we will establish your tax planning needs and identify which investments to include.
Risk assessment
We ask all clients to complete a risk questionnaire and encourage them to reflect on their values and define the purpose for their money. We measure our clients' investment expectations against their possible desired returns. 
Asset allocation
Asset allocation involves getting the balance of assets in your portfolio right.  Different types of assets have different performance characteristics, so our aim is to allocate the appropriate blend of funds to your portfolio, so that, over time, the peaks and troughs of their performance balance each other out in a way that is optimised for your risk profile and your expectations for growth.
Fund selection
With thousands of investment options to choose from and each of these trying to achieve different things, understanding the reasons for their relative success is where our knowledge and skills lie.  This helps us appreciate how they may perform in the future and this in turn helps us identify opportunities for 'outperformance' – doing better than average and allocating them to you, our client.
Review and Rebalance
Our Investment committee meets monthly to assess the performance of our portfolios and their component funds, during this meeting we pay particular attention to outperformance and underperformance.  We report our findings back to you on a quarterly basis and re-balance, where required every six months, usually January and July.  We are happy at any point to share this information with you at a face to face review meeting. Monitoring and Reporting are imperative as part of our regular communication with you because we want to have a transparent client relationship with you.